Maintenance Project to Affect Some Southern Transcon Traffic in Chicago Area March 16-17, 2018
Beginning Friday, March 16 at 7:00 p.m. and continuing until as late as Saturday, March 17 at 9:00 a.m., BNSF will conduct maintenance work replacing a track diamond (a location where tracks cross) at Streator, IL located on our Chillicothe Subdivision, which runs between Chicago and Ft. Madison, Iowa.

Some trains will be rerouted or held during this time as BNSF crews remove existing track and then replace with new rail, ballast, drainage pipes and expansion joints. The map below shows the location of the project, and an alternate route where BNSF can utilize trackage rights to redirect a limited number of trains onto our Mendota Subdivision.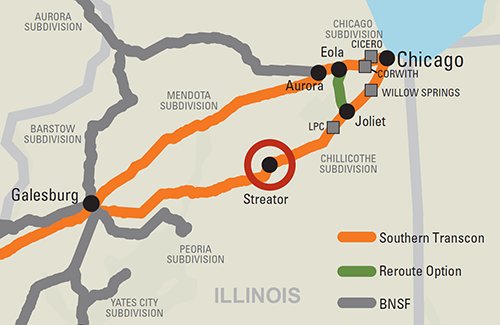 Domestic Intermodal customers with shipments designated to move through this area may experience delays of up to 12 hours while some international traffic may be delayed up to 18 hours.

Maintaining the BNSF network is essential in supporting safety and efficiency. This project work was originally scheduled to take place between Christmas and New Year's Day (2018) but was postponed due to severe weather.

If you have any questions, please contact your BNSF Marketing Representative.

Your business is important to us. Thank you for choosing BNSF as your transportation service provider.